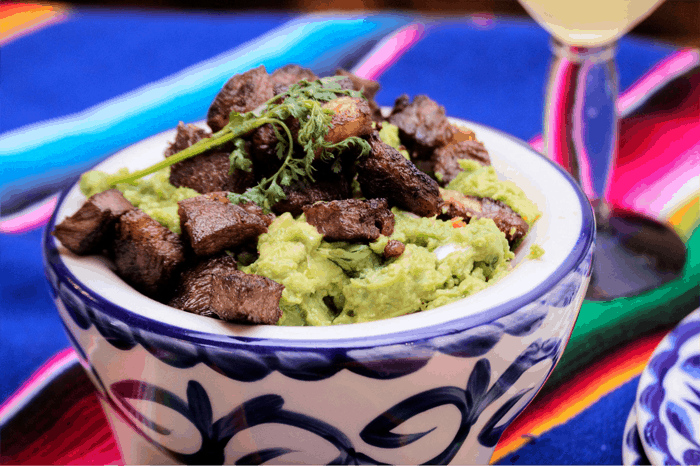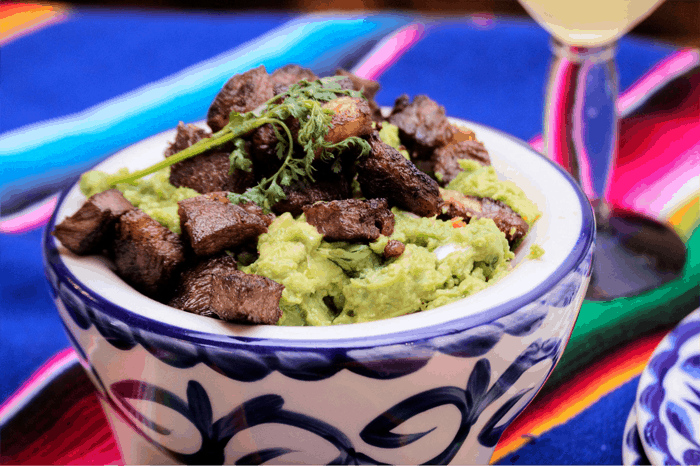 Mi Familia's Chicharrón de Ribeye
San Antonio's Mi Familia restaurant makes a fantastic Chicharrón de Ribeye, which is crispy, fried steak on top of homemade guacamole. Use your favorite guacamole for this dish– the chunkier the guacamole, the easier it is to stack! If you don't have a round 2-inch mold, you can use a biscuit cutter or a clean empty can with the top and bottom removed. Vegetable oil can also be used as a healthier fat substitute because of its high smoke point, which makes it a better alternative than butter.
Ingredients
Guacamole
2 avocados halved, pitted and sliced
1 large Tomato diced
1/4 cup cilantro
1/3 red onion diced
1 lime juiced
olive oil
Pickled Red Onion
1/2 red onion very thinly sliced
1/2 Tablespoon granulated sugar
1/4 cup apple cider vinegar
Ribeye
1/4 cup lard or fat of your choice, such as pork or beef fat (can be found with margarine or shortenings in the grocery store)
1 6 ounce Ribeye cut into ½ inch – 1 inch thick cubes
4 oz favorite salsa
1 oz Queso fresco (1/4 cup)
kosher salt and pepper
Instructions
Make the Pickled Red Onions
In a small bowl, combine the apple cider vinegar, sugar, and salt and stir until the sugar and salt have dissolved. Place onion slices in a jar and pour vinegar mixture over it, let sit at room temperature for at least an hour. Drain before serving.
Make the Guacamole
In a large bowl, combine the avocados, tomato, cilantro, red onion, lime juice, and a drizzle of olive oil. Mix with a fork until all the ingredients are blended. Set aside at room temperature or refrigerate until ready to use.
Fry the Ribeye
In a deep skillet, melt the lard over high heat. Add the ribeye and stir the steak for 1 to 2 minutes, ensuring they do not stick to the pan.

Continue cooking the steak over high heat, stirring occasionally, until dark and crispy, about 10 to 14 minutes.

Once the steak is a dark shade of golden brown, remove from the pan and season with salt and pepper to taste.

Place a round 2-inch mold on a plate or large bowl, then layer guacamole and ribeye into 4 layers, beginning with guacamole and ending with ribeye. Carefully remove the mold, revealing the layered dish.

Garnish with pickled red onions and queso fresco. Spoon the salsa on the plate around the chicharron and guacamole. Serve right away!
Make Ahead
The pickled red onions can be made and refrigerated up to two weeks in advance. Drain before use!
Similar :
---